Building resilience among women in the informal sector amidst COVID-19
Uganda is one of the countries where women's empowerment has been put to the forefront with quite a number of government ministries and other bodies being headed by women. This is in response to the country's commitments for action made at both national and international levels, recognizing the need for empowerment and advancement of women.
Meanwhile women at the upper-end are progressively advancing in all spheres of leadership, the state of affairs of rural and sub-urban women who contribute immensely to the country's socio-economic development is still wanting. These women's voices are not included at the decision-making table. The experiences they go through and their concerns which matter most for the wellbeing of humanity are usually excluded and are not known to those who formulate policies.
Why the need for women's empowerment? It has been observed that women are naturally the caregivers and protectors of life and the care they give to their loved ones is what sustains life. To accomplish this assignment, women need to work at all levels. Without work, women may not be in position to provide care for their families. As they go about their daily chores, they face numerous challenges spending many hours without rest. The threat of Covid-19 is yet another burden on their shoulders.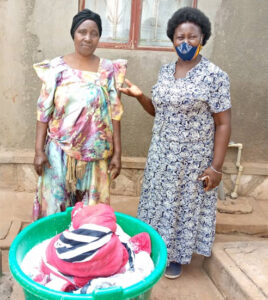 As we celebrated the Gender Equality month – March 20201, ("International Women's Day, the UN Commission on the Status of Women, and the Generation Equality forum"), Centre for Ecological Governance and Gender Initiatives (CEGGI) highlights the contribution of women working in the informal sector. Their work, though scantly recognized by the national economy, and receive no formal support, they greatly contribute to their local economies and to the national GDP. Through their work, they are able to sustain their families' and communities' livelihoods.
However, it has not been easy for many of these women during the implementation of COVID-19 prevention guidelines. When the government put in place measures to cushion and curtail the spread of corona virus, women working in the informal sector were greatly impacted.
We share the experience of one of our urban community members, Ms Perusi Nakintu who runs a dry-cleaning and laundry shop. Perusi is a member of Twekembe Women's Group – Ssegukku in Wakiso district. She is a married woman and a mother of seven children. She has also raised many other children of her relatives including grandchildren. In her own words, Perusi, speaking on behalf of her family, says: "my family needs constant working to raise resources in order to have access to basic necessities and to thrive. This has not been easy to get during the lockdown to prevent the spread of COVID-19. I was not working during the lockdown because the kind of work I do has its own challenges. I work for people who go to work and those who attend events. I work for people who go to work and those who attend events like weddings, marriage ceremonies, schools and the like. Since there was a total lockdown and quarantine, these events were not taking place and therefore, I could not get customers. For the "stay-at-home" customers who would bring their blankets and coverings for laundry, they were not able to move out of home so somehow I lost them".
"I am also a tailor. I used to get contracts to make school uniforms. Since schools were closed, these contracts came to a standstill.
"The worst moment came when my husband fell sick during the lockdown. I had no money for his treatment and I was a little scared since at that time all who were sick were suspected to have contracted corona virus. Fortunately, he did not have the virus. This knowledge calmed us down a little but I was still not working and therefore no means of income. The little savings we had were used up. I was not sure of how I would take care of the family and the business after this. With no money in reserve, bills and other basic necessities, were almost impossible to meet. Rent was hard to pay and we feared that our place of business would soon be up for grabs by other tenants who could cover the costs."
"Before COVID-19 outbreak, I also faced a few other challenges. Competition with other similar businesses is challenging but we do quality work and people who want quality keep coming back to us. Since we are a big family, the children have trained to do this work so we don't hire external labour. This helps us to reduce on the labour costs and save funds to cater for other needs like school fees and scholastic materials."
"Most of the people who bring their clothes for washing take long to pick them, thus delaying the payments. This raises the cost of labour to keep the clothes fresh, clean and safe but also reduces the storage space for new customers. I wanted to expand the business and do something else that would be productive during the lockdown, but I had no funds to do so. Our livelihood was threatened, but we were patient and we looked for other ways of surviving." Twekembe Women's Group to which I am member supported us during this period. I am indeed grateful to the group".
Twekembe Women's Group is based on a revolving fund where members make weekly contributions of money to the fund and a percentage is passed to one recipient. The balance is banked for future use.
Perusi is a resilient and hardworking lady. She takes the lead and always seats down with her family to discuss the challenges affecting them to find solutions together. While this is Perusi's story, there are many women from the grassroots facing numerous vulnerabilities that go unnoticed. These women need a listening ear and support from those who have the stake.
Some of the policy recommendations suggested by the "Socioeconomic impact of Covid-19 in Uganda", include: "to protect current employment through a stimulus package to support informal MSEs. A stimulus or support to those informally employed … would help offset inevitable economic hardship, particularly for women. Results indicate that this measure would be effective in supporting informal workers and keeping many Ugandans out of poverty". This can be accomplished by:
1) building a robust coordination infrastructure through developing a costed rapid Social Protection Plan working with CSOs, LGs and other players;
2) establishing a physical and automated platform for coordination and resource mobilization for support to the vulnerable (as a part of this process, there is also need to ensure meaningful and effective participation of affected groups in plans and programmes that concern them, in line with Human Rights Based Approach);
3) evaluating the effectiveness of administration/management of social protection measures after the pandemic. (Socioeconomic impact of Covid-19 in Uganda).
Unfortunately, most of the vulnerable communities including those in the informal sector are not informed of such strategies and recommendations put in place by government to help them come out of the shocks by COVID-19 pandemic and other related crises.
As the population continues struggling with the loss of jobs and income, limited access to basic needs, risk of eviction when the rent cannot be paid, CEGGI is resolved to work with her partners to forge stronger economic and social systems that sustain basic essential needs of families. Through the community empowerment strategy, CEGGI is inspiring women to be resilient and come up with simple alternative solutions to address the impacts of crises that negate their livelihoods.
These challenges need to be addressed by creating awareness among women of their right to be involved in economic and social development, and have equal opportunities to participate as agents and beneficiaries of sustainable development. There is greater need to facilitate women's social and economic empowerment to allow women have control over public decisions that impact positively on their livelihoods because they have the responsibility for managing basic human needs.
Apart from ensuring that gender policies are put in place, there is great need to check through the progress in fulfilling the local, national, regional and global commitments for women's empowerment. Because the UN Sustainable Development Goals (SDGs) are interconnected, often the key to success on one involves tackling issues more commonly associated with another, "gender equality is more than a goal in itself. It is a precondition for meeting the challenge of reducing poverty, promoting sustainable development and building good governance" said the former UN Secretary General – Kofi Annan. Therefore, with respect for the diverse cultures, all who have the stake should appreciate that "gender equality and female empowerment are core development objectives, fundamental for the realization of human rights and key to effective, equitable and sustainable development outcomes". (women4biodiversity.org/).